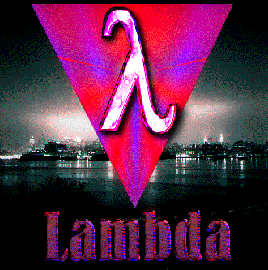 Lambda is the Queer Issues Conference at Echo.
This is where New York's most talkative queers meet, to discuss, debate, and tawk about sexuality, identity, community, sex toys, and Fiestaware.
Welcome to our Website! It's not huge, but we're not size queens. Things will be of modest proportions and grow from there. Your hosts are Jane Doe and oedipa (Matthew Ehrlich). We send all our love out to former Best Boy Host Stephen Kopp, in Austin, TX. We're glad you stopped by. Stay, hang out a minute or two, and check us out. If you get the urge, sign up with Echo yourself (the first month is free) and join us! We'd love to see you there.
Lambda's readership is diverse, and includes lesbians, gay men, bisexuals, transgendered folks, transvestite folks, and plain ole straight people (we are a public, open conference). We have academics, activists, and acrobatic gender benders in our conference.
Usually, our most active conversations have been:
Some of the our more entertaining discussions in the past have been
Check out our

Conference Contents to see what we have been talking about lately - we have over 200 topics, and if you don't see something you want to discuss, get your pretty butt over to Echo, join Lambda, and add an item!
One new feature of the website is our Queer Graphic Design Activism Archive. Download posters now, and soon we'll provide graphic elements for designing your own!
What do Lambdans do when we aren't discussing, debating, et al?
The same thing the rest of you freaks do!
On rainy days, we arrange our Wigstock scrapbooks, collect decent reading lists, and have sex.
Of course, some of our best fun this summer was at the celebration of Queer Pride, here in fabulous New York. If you're not a Gotham Resident, or you spend your life at the beach, you may have missed it. But you can still experience some of the sights and sounds of one of the city's biggest parties through the 30 seconds of Quicktime magic.
If you want to meet the fabulous Lambdans in person, we have

face-to-face meetings where we debate, discuss, and check out one another's clothing. A recent F2F was at Lucky Cheng's, a wonderful Chinese restaurant with an entirely gorgeous transvestite/transgendered wait staff. We also run into each other at the Art Bar, where Echo has its F2Fs for the entire board. We'll be the ones who smell good there.
And, in the meantime, use our links to check out the rest of

the Queer Web.

Go To Echo Homepage
---
Webinatrix: janedoe@echonyc.com Designer: jet66@echonyc.com Studmuffin Modem Slave: oedipa@echonyc.com