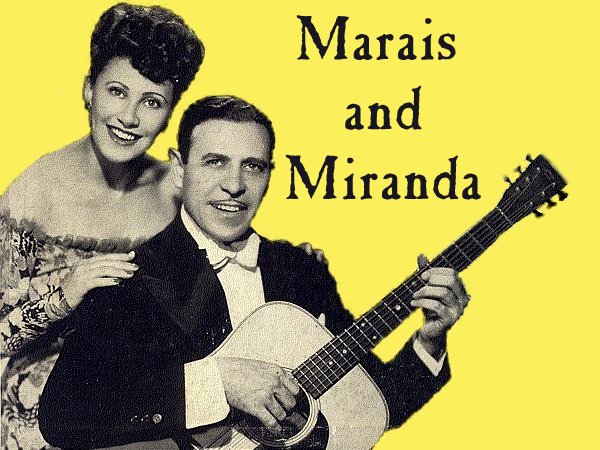 Josef Marais (Nov 17 1905 - Apr 27 1978), born in Sir Lowrey's Pass, Union of South Africa and Miranda (Baruch de la Pardo) (Jan 9 1912 - Apr 20 1986), born in Amsterdam, Holland were popular folksingers with their own show on NBC radio and a series of recordings on Decca and other labels. Marais wrote many of his own arrangements and composed new music as well.
Concentrating on South African songs, they also sought out other international ballads and sang and played in the popular Singing Science series of educational recordings.
Bios from fellow Balladeer Sam Hinton and the liner notes to "Marais and Miranda In Person (recorded Feb 2, 1955) DL 9026
To Budding Balladeers from Josef Marias
Discography

Thanks a whole lot to Brian Dewan, big M+M fan and Sam Hinton, M+M familiar.

---
www.maraisandmiranda.org, is a more comprehensive M+M web presence, featuring recordings, more information and who knows what! You can even get mp3's from the Marais and Miranda Compilation, "Returning Home with Marais and Miranda" from there Not affiliated with this fan site in any way!
Hey! You can get a lot of M+M recordings on iTunes now! Just search for "Marais and Miranda". More details in the discography section.
---
[Back to the main page]
Henry Lowengard, jhhl-at-panix.com / 324 Wall St #5 / Kingston NY 12401


---

© 2022 Henry Lowengard