president of Cleo DV, Inc.; producer of Cleo TV; and author of books about Patpong, Thailand, about Goa, India, and about cybersex.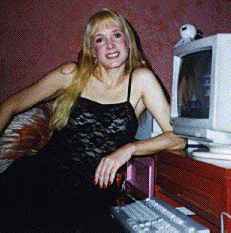 The Digital Video company for making RealVideos, CDs, and DVDs.
Now available! -- The Goa CD:

GOA from Goa Freaks to Goa Trance
---
CLEO TV

Watch episodes of Cleo's Adventures in real-time, web-streaming RealVideo
See the past scheduling of Cleo's Adventures on Manhattan Public Access TV
---
CLEO IS GONE! She's now in.... in.... in...

(pictures included)
---
A Shockwave glimpse of Cleo
---

Dr. Cleo Odzer is the author of three books (that have been published in hardcover, trade paperback, Book of the Month Club, and one translated into Chinese):
PATPONG SISTERS: An American Woman's View of the Bangkok Sex World.
---
Cleo's second book

GOA FREAKS: My Hippie Years in India
Millennium edition has just been released in Goa,India, Dec. 2000
---
Cleo's third book was about the internet, proof that she's a pioneer of the web

VIRTUAL SPACES: Sex and the Cyber Citizen
---
Other tidbits about Cleo.